trix are for kids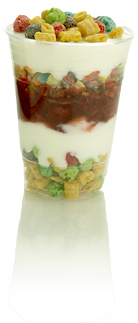 I was watching the Today show yesterday morn and they were talking about a new store called "
Cereality
" where they sell variations of cereal as snacks and things. Cute idea. I don't know if that would fly in L.A., as trendy as we are those kinds of "fun" stores don't last.
They have a toppings bar, if you like candy on your cereal (yeesh), or - now this is the kicker - you can mix your own cereal. Yeah I know you can buy 20 boxes and do it yourself, but who has the time? Take a
virtual tour
...